Experience
The oldest and most experienced Spanish school in Granada, Nicaragua, was established on April 1996 and has been has been providing high-quality language training to travelers and professionals for over 14 years and is open, to serve you best, from 8 a.m. to 8 p.m. every day of the week including weekends and holidays.
Read more…
Acurracy
In order to develop, as quickly as possible, our students' conversational skills, the school's material has been carefully adapted to excel our students' speaking, listening and understanding abilities.
Read more…


Registration fee is not required at our Nicaraguan Spanish school, but reservation before arrival is needed to ensure our students' placement for morning courses.
Read more…

Students at our Spanish language school in Granada, Nicaragua, may choose to live in a hostal or with a clean and hospitable Nicaraguan family.
Read more…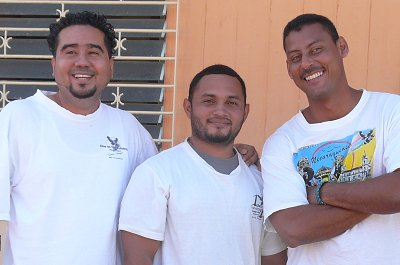 One on One Tutoring
Calle La Calzada del Colegio Carlos A. Bravo 45 varas al lago.
Email: [email protected]
Phone:
(505) 2552-6771
Testimonials
After action report
Dear Roger, I think that I could write this in Spanish, but I could not express myself as well. I had a wonderful experience as a student at your school. I really liked all 4 of my instructors very much.
1. Olga is very kind and patient. She is smart and professional in her teaching. I would watch her mouth as she pronounced words, and it was easy to understand what she was saying.
2. Michael is also very kind and patient. He has a wonderful sense of humor and made me laugh with his jokes. His word jokes, like the similarity in pronunciation of "votar" and "botar", are valuable language lessons in addition to being humorous.
3. Alejo is the coach. Patting me on the back, then encouraging me to do more and better. I enjoyed hiking with him to my apartment for my tuition payment.
4. Erick was the perfect conversation instructor. For a young man, he not only seems very well educated, but also interested in teaching. He was as knowledgable and enthusiastic when he was telling me about primitive tribes in Nicaragua as he was when discussing music, movies, sex, and wars. I will be spending alot of time trying to re-learn my American history (Benjamin Franklin), the capitals of the nations (Berlin, not Frankfort), and the history of Central America.
I feel that I lost a lot of my fear of speaking, and increased my ability to understand the spoken word. I know that I still speak in broken and painfully slow sentences, but I feel that I have made a big step forward. I am still practicing every day. Before I left Granada, I attended a party where I recommended your school and my instructors to several women from America and Europe. Several of them have lived in Granada for several years and still cannot speak any Spanish! I told them that your policy is to individualize each student's schedule. Mine was perfect! Changing instructors is also a very valuable teaching tool. You may hear from some of them.
Thank you for everything. I will probably be returning to Granada within the year. I will let you know. Also, if I can ever be helpful to your instructors, including Omar, I would be happy to attest to their intelligence, ability to teach, and attitude.
Your very satisfied student,
Gretchen Vanek
Totally Nicaraguan and ready to serve you!
Hi, Roger: I'm back in Florida now and wanted to tell you how much I enjoyed my stay in Granada.
Your school is beautiful and the teachers, Alejo, Olga, Omar and Eric were all excellent. Not only were they superb at teaching and explaining intricate Spanish grammar, I also enjoyed many hours of valuable conversation where I learned much about Granada and Nicaragua's history, culture, food, flora and fauna and more than I can remember this early in the morning.
Omar did an excellent job as a guide through the city streets of Granada and San Juan de Oriente and is to be commended. Marlon was a great driver, particularly in the outskirts of Managua where we had one close call Saturday morning. His alertness and quick reactions to the stupidity of another driver certainly prevented an accident.
I also enjoyed the homestay with Chaugua and her family. Their hospitality was excellent.
I hope that you will thank all of them for making my stay in Granada enjoyable and memorable.
Muchas gracias. Michael Lehner [email protected]