Experience
The oldest and most experienced Spanish school in Granada, Nicaragua, was established on April 1996 and has been has been providing high-quality language training to travelers and professionals for over 14 years and is open, to serve you best, from 8 a.m. to 8 p.m. every day of the week including weekends and holidays.
Read more…
Acurracy
In order to develop, as quickly as possible, our students' conversational skills, the school's material has been carefully adapted to excel our students' speaking, listening and understanding abilities.
Read more…

Low-priced, mouth-watering meals
Students and visitors can now enjoy in Granada a freshly cooked vegetarian meal at our new nicaraguan-vegetarian eatery "LA MERIENDA" where we offer students and travelers yummy, garden fresh meals at a very low cost.
Read more…
Registration
Registration fee is not required at our Nicaraguan Spanish school, but reservation before arrival is needed to ensure our students' placement for morning courses.
Read more…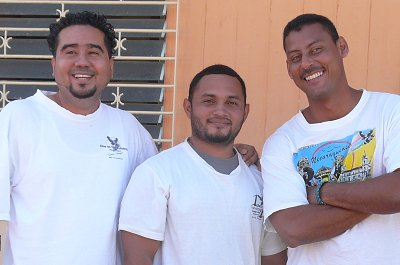 One on One Tutoring
Calle La Calzada del Colegio Carlos A. Bravo 45 varas al lago.
Email: [email protected]
Phone:
(505) 8442-6288
About our teaching experience
Over fifteen years of teaching Spanish
One on One Tutoring opened its doors for the first time on April 15 1996 as the first and only Spanish school in Granada, Nicaragua. It was nothing more than a single room school and I, Roger Sr., was the sole instructor having as my first student a German gentleman who did not speak any Spanish but who was able to learn our basics in a five days course. A strong demand for a bigger and better high-quality language school came and more teachers were needed. So, One on One Tutoring became what it is now!
The professors at One on One Tutoring are trained and certified by INATEC (Nicaraguan Technological Institute) from beginning to advanced levels, and throughout the years, One on One Tutoring has been, and still is, the only Spanish school to have passes the rigorous INATEC's certification process, and is the only Spanish School in Granada that uses techniques which are recognized, by this governmental institution, as effective for learning a foreign language.
Furthermore, in order to become a teacher at One on One Tutoring potential instructors must be a trainee for a six month before he or she starts working as a conversation trainer. Time during which, he or she must get to know the material and subjects that he or she shall employ during class.
When a conversation trainer proves him or herself to be a dazzling, pleasant and reliable individual, a shot to the position of vocabulary tutor is given to him or her.
To become an exercise instructor, a vocabulary tutor has to prove that he or she is a capable, talented and proficient tutor.
Whenever an exercise instructor has demonstrated to be a first-rate, skillful instructor, only then, he or she becomes a grammar teacher and one of the best language instructors in town (This whole training process usually takes up to six years).
Click here to contact us
A great way to help our community
One on One Tutoring does not only offers volunteer opportunities to anyone interested in helping to improve the lives of the our people.
What for many people might be very little and close to nothing, things like a toothbrush, a tooth paste, a pencil, a note book, coloring pencils, coloring books, etc., does make a difference and is for our children is a blessing.
Believe me when I say that you will really enjoy seeing their little faces light up full of joy when they get, from your very own hand, that little bit of affection you might be able to hand them over.
We encourage those who read our site not to come to us for Spanish tutoring only. We invite them to come to us with a bit of love. Bring to our children whatever you can spare and we will take you to them so you can personally give them your token of love and compassion.
One on One Tutoring
-Toally nicaraguan and ready to serve you!
Click here to contact us