Experience
The oldest and most experienced Spanish school in Granada, Nicaragua, was established on April 1996 and has been has been providing high-quality language training to travelers and professionals for over 14 years and is open, to serve you best, from 8 a.m. to 8 p.m. every day of the week including weekends and holidays.
Read more…
Acurracy
In order to develop, as quickly as possible, our students' conversational skills, the school's material has been carefully adapted to excel our students' speaking, listening and understanding abilities.
Read more…


Registration fee is not required at our Nicaraguan Spanish school, but reservation before arrival is needed to ensure our students' placement for morning courses.
Read more…

Students at our Spanish language school in Granada, Nicaragua, may choose to live in a hostal or with a clean and hospitable Nicaraguan family.
Read more…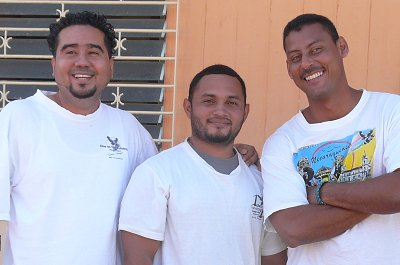 One on One Tutoring
Calle La Calzada del Colegio Carlos A. Bravo 45 varas al lago.
Email: [email protected]
Phone:
(505) 8442-6288
Spanish Language Schools in Nicaragua
by Joshua Berman and Randall Wood, authors of Moon Nicaragua
as appeared on www.transitionsabroad.comSpanish Schools in Granada
Roger Ramirez's One-on-One Spanish Tutoring Academyhas received rave reviews and a constant stream of students since its humble, one-room beginnings. One-on-one's classrooms are a bit cramped, but their eight full-time young teachers rotate every hour, so that students are exposed to different personalities and accents as they switch between grammar, conversation, and other topics. A week of 20 hours of instruction costs US$110, plus US$85 for room and board with a family. Custom, group, and cultural activities can also be arranged, as can shorter lessons, or class by the hour. In addition, 10% of tuition fee goes to local charity. www.spanish1on1.net Tel. (505)2552-6771 [email protected]
Casa Xalteva (Nica tel. 011/505/552-2436, US tel. 505/254-7535, [email protected], www.casaxalteva.com) offers a similar package, US$125/week, with a stress on volunteer activities; highly recommended by former students, quiet location, and part of a small group home for boys which is supported by your tuition.
The experienced teachers that used to work in the beautiful Palacio de Cultura on the central park now own and operate the Cocibolca Spanish School (tel. 011/505/889-9375/865-1340, [email protected], pages.prodigy.net/nss-pmc), which offers full packages from US$195, and also weekend classes.
Spanish Schools in Laguna De Apoyo
If you prefer to avoid the distractions of the city, the Proyecto Ecologico ([email protected], www.gaianicaragua.org) is the only Spanish school in Nicaragua in a purely natural setting–the lakeside lodge is in the crater of an ancient volcano. The spot is incredible, only an hour from Managua, less to Granada, yet still tucked away in its own green world. Lodging and food are excellent; students are placed in a one-on-one and/or group learning context (max. 4 per teacher) for five hours per day, five days per week. One week costs US$190, includes classes, activities, room and board in their lodge. The weekend program has Spanish classes Saturday and Sunday, with all meals included, and room Saturday night.
Spanish Schools in San Juan Del Sur
One of the best deals around and easy to recommend is Dona Rosa Silva's Spanish School (tel. 011/505/621-8905, [email protected], www.spanishsilva.com), offering four hours of daily instruction, up to six days a week for US$100–plus US$60 for a homestay; several of her students had nothing but good things to say.
There's one school in the Casa de Cultura, across from the beach (they may still be unethically using the old NSS name and logo), but it is under brand new management and we have not heard anything about it. Down the block across from the bank (right on the beach!) is the San Juan del Sur Spanish School (tel. 011/505/568-2432, [email protected], www.sjdsspanish.com) with all-inclusive packages for US$195/week; very experienced teachers.
Latin American Spanish School (tel. 011/505/820-2252; [email protected], www.latinamericanspanishschool.com) is a recent start-up headed by a half dozen entrepreneurial and professional Nicaraguan Spanish instructors with, on average, over 8 years' experience teaching foreigners. They offer a basic 20-hour instruction and activity package for US$120, plus US$90/week for lodging with private bath and three meals a day.
More Spanish schools
Spanish Schools in Leon
Schools are in flux in Leon, with a few new ones being formed at press time, and the oldest one being disbanded. Ask about Spanish schools in the Casa de Cultura, or check the bulletin board at the Via Via Hospedaje for private tutors and lessons. Also, Va Pues Tours (tel. 011/505/606-2276, [email protected], www.vapues.com) recently began offering an intensive, full-immersion Spanish course: US$195 for 20 hours of one-on-one class (over five days), includes room and board.
Spanish Schools in Esteli
Esteli's advantage over other schools is the deliciously cool climate and a number of natural excursions accessible as brief day trips from the city. Esteli­ has lots of experience hosting and teaching internacionalistas and its schools have been around for over a decade. Escuela Horizonte Nica (tel. 011/505/713-4117 or 836-5943, [email protected], www.ibw.com.ni/u/horizont) has one of the longest track records in town, and has an afternoon activity program that includes visits to local cooperatives and community development programs. One week of class, with 20 hours of intensive study, afternoon activities, and homestay with a family costs US$165, but they offer discounts for groups.