Experience
The oldest and most experienced Spanish school in Granada, Nicaragua, was established on April 1996 and has been has been providing high-quality language training to travelers and professionals for over 14 years and is open, to serve you best, from 8 a.m. to 8 p.m. every day of the week including weekends and holidays.
Read more…

Low-priced, mouth-watering meals
Students and visitors can now enjoy in Granada a freshly cooked vegetarian meal at our new nicaraguan-vegetarian eatery "LA MERIENDA" where we offer students and travelers yummy, garden fresh meals at a very low cost.
Read more…

Registration fee is not required at our Nicaraguan Spanish school, but reservation before arrival is needed to ensure our students' placement for morning courses.
Read more…

What is our goal?
We made it our goal to provide the highest achievable standard of service to our students. Within a just few years One on One Tutoring Spanish School has become the leading Spanish schools in Granada Nicaragua. And with good reason! Our teachers are well trained and experienced and our Spanish courses are second to none.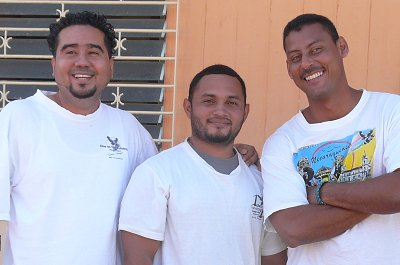 One on One Tutoring
Calle La Calzada del Colegio Carlos A. Bravo 45 varas al lago.
Email: [email protected]
Phone:
(505) 8442-6288
Welcome to One on One Tutoring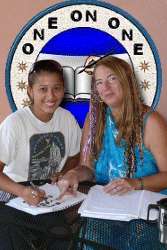 Our Spanish school in Nicaragua
If we are having difficulties with our www.1on1tutoring.net site, you are probably getting our info from this one (www.spanish1on1.net). None the less, if you are considering learning Spanish in a Nicaragua based Spanish language school…, my son, Roger Ramirez Jr., each of the instructors at One on One Tutoring and I, Roger Sr., offer you intensive one-to-one personalized classes and a total immersion program for beginners, intermediate and advanced students in Granada, Nicaragua.
Our totally Nicaraguan, family oriented Spanish school offers you courses tailored to each student's time frame, individual interests, personal background and knowledge of the Spanish language.
Furthermore, each of the instructors takes a keen interest in our students' academics and makes every effort to ensure their time with us is a valuable learning experience for each and every individual attending our small, energizing Spanish school in Nicaragua.
We all know there are many Spanish schools in Granada, but … There are Spanish schools and there are Spanish schools. Unfortunately the quality of the Spanish courses that are offered by Spanish schools in Nicaragua is rather uneven. Choosing the right school is very important to make rapid progress and avoid wasting your valuable vacation time.
You will get the best results if you choose a school that
1.- Offers one-on-one Spanish lessons
2.- Has a thorough and comprehensive program for students of all levels and is flexible enough to adapt it to your needs, interests and learning style
3.- Employs competent, experienced and well-motivated teachers
4.- Organizes extracurricular activities that allow you to practice your Spanish in real-life situations and experience the Latin American culture and way of life
5.- Has a homestay program with carefully selected host families
6.- Is officially recognized and professionally organized
One on One Tutoring Spanish School in Granada Nicaragua is all of the above, and more!
Unlike most Spanish schools in Granada, we will make you speak, speak, speak! You will learn to speak Spanish in realistic everyday situations and communicate effectively with native speakers.
Click here to contact us
A few reasons why you should study with us
1.- The genuine and authentic Nicaraguan One on One Tutoring Spanish school with over fifiten years of Spanish teaching experience, established in 1996, is located on Granada's main street, at a four minutes walk from and to Central Park and the lake. Our address: Calle La Calzada #450, across hospedaje La Calzada, before church Guadalupe.
2.- One on One Tutoring is a Nicaraguan, family owned Spanish school that assures you that the money invested by the students in Nicaragua stays in the community.
3.- Our faculty is composed of qualified native Nicaraguan Spanish speaking and bilingual instructors trained to teach Spanish as a second language. These instructors use their English speaking abilities only if needed.
4.- One on One Tutoring is the only Spanish school in Nicaragua that offers each potential student four different instructors per day of class (the same four instructors for as long as the student stays at the school). Having four instructors makes the course much more intensive and less, much less boring and stressing for the student.
5.- In order to present you with the best Spanish teachers in Granada, our instructors must spend two years as conversation teachers, two more years as vocabulary teachers and two more as an exercise teacher before becoming a grammar instructor. So, when a student has one of our teachers at the other end of the table, he or she can be sure that the instructor is one of the best Spanish instructors around.
6.- Ours is still only the language school in Granada to have passed the rigorous INATEC (Nicaraguan Technological Institute) certification process.
7.- Roger Jr. and I do worry about keeping the high-quality service we have offered for so long to students of all ages and from all over the world and this is why Junior and myself would like you to know that coming to One on One Tutoring Spanish school for Spanish instruction will be your best learning experience ever!
Click here to contact us
Student at One on One Tutoring Spanish School receive five free afternoon activities per week!
-A great way to set off a week of intensive Spanish classes:
| Monday | Tuesday | Wednesday | Thursday | Friday |
| --- | --- | --- | --- | --- |
| City Tour | Cooking Class | Out of Town Field-trip | Swiming Pool Visit | Supper w/ Students and Teachers |