Experience
The oldest and most experienced Spanish school in Granada, Nicaragua, was established on April 1996 and has been has been providing high-quality language training to travelers and professionals for over 14 years and is open, to serve you best, from 8 a.m. to 8 p.m. every day of the week including weekends and holidays.
Read more…
Acurracy
In order to develop, as quickly as possible, our students' conversational skills, the school's material has been carefully adapted to excel our students' speaking, listening and understanding abilities.
Read more…


Registration fee is not required at our Nicaraguan Spanish school, but reservation before arrival is needed to ensure our students' placement for morning courses.
Read more…

Students at our Spanish language school in Granada, Nicaragua, may choose to live in a hostal or with a clean and hospitable Nicaraguan family.
Read more…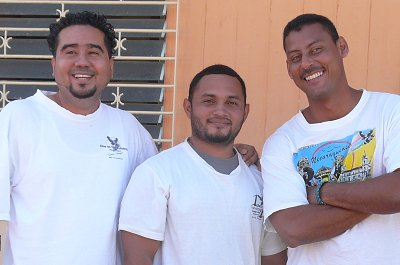 One on One Tutoring
Calle La Calzada del Colegio Carlos A. Bravo 45 varas al lago.
Email: [email protected]
Phone:
(505) 2552-6771
One free of charge activity per day
Afternoon activities
In order to make our students' stay in Granada a much more pleasant occurrence and because we are sure they wish to get a better feel of our culture, colonial structures and nature; One on One Tutoring has added the following afternoon activities to our Spanish teaching program:
On Monday, City tour: leaving from the school at 2 p.m. in the company of Maycol, a young, friendly, bilingual-Nicaraguan tour-guide, students at One on One Tutoring do walk through the streets of Granada where they are introduces to our history and folklore by visiting sites of interest such as churches, museums and others.
On Tuesdays, Salsa & Bachata lessons: from 5 p.m. to 6 p.m., Students get instructional Salsa and Bachata lessons so they can either practice the steps they already know or learn how to dance in minutes in order to be out on the floor in record time.
On Wednesdays, one of the following fieldtrips depending on what has been schedule for the week:
1.- Isletas Tour: In this majestic archipelago with volcanic origin, our students enjoys exuberant flora and fauna, a unique view of volcan Mombacho, as well as Ometepe island. Watch a colony of monkeys, that lives on a small island and which, funnily, approach the boat as it gets close.
2.- Catarina's Lookout Tour: The location gives the village a pleasant climate and on the top of the hill you will find the famous Mirador de Catarina, where you can admire the magnificent view over Laguna de Apoyo.
3.- Laguna de Apoyo Tour: Our students get to the bottom of a crater where they get to swim in Nicaragua's cleanest, bluest, and deepest swimming hole.
4.- Masaya Tour (Artisan Market & Mirador): Shopping tour of native crafts market at the Artisan Market in Masaya where you can get all the souvenirs you may need to remember your stay in our beautiful country, Nicaragua.
On Thursday, visit to local swimming pool: Guided by one of the school members, students walk through town to one of the cleanest swimming pools in town where they are be able to enjoy themselves, relax and exercise while swimming.
On Friday night, dinner time to end up a week of intensive hard work: Students and teacher get together on Friday nights to enjoy a couple of hours of music, excellent food and good conversation.
Why study Spanish with us?
Student at One on One Tutoring Spanish School receive five free afternoon activities per week!
-A great way to set off a week of intensive Spanish classes:
| Monday | Tuesday | Wednesday | Thursday | Friday |
| --- | --- | --- | --- | --- |
| City Tour | Dancing Class | Out of Town Field-trip | Swiming Pool Visit | Supper w/ Students and Teachers |