Experience
The oldest and most experienced Spanish school in Granada, Nicaragua, was established on April 1996 and has been has been providing high-quality language training to travelers and professionals for over 14 years and is open, to serve you best, from 8 a.m. to 8 p.m. every day of the week including weekends and holidays.
Read more…
Acurracy
In order to develop, as quickly as possible, our students' conversational skills, the school's material has been carefully adapted to excel our students' speaking, listening and understanding abilities.
Read more…


Registration fee is not required at our Nicaraguan Spanish school, but reservation before arrival is needed to ensure our students' placement for morning courses.
Read more…

Students at our Spanish language school in Granada, Nicaragua, may choose to live in a hostal or with a clean and hospitable Nicaraguan family.
Read more…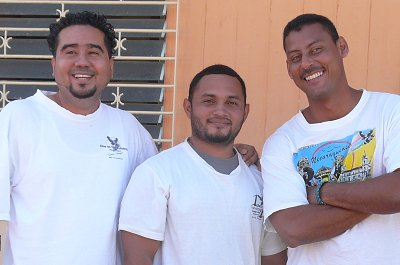 One on One Tutoring
Calle La Calzada del Colegio Carlos A. Bravo 45 varas al lago.
Email: [email protected]
Phone:
(505) 2552-6771
Bars and restaurants in Granada
Restaurants and nightlife in Granada
Granada's nightlife attraction on calle La Calzada would be dullsville without music. There is music for dancing, drinking, eating, and singing. There is cabaret, jazz, disco, R&B;, techno, pop, country, bluegrass, hip-hop, and salsa. Or sometimes, it's just a singer and her guitar, singing love songs. As Bob Marley is quoted to have said: "One good thing about music, when it hits you, you feel no pain." The spirit of Marley lives on in the nightlife of Granada.
Restaurante-Hospedaje La Casa Blanca
This family-oriented Nicaraguan owned restaurant, located on calle La Calzada at a five minute walk from Parque Central and Lake Nicaragua offers you the most scrumptious, appetizing finger licking and mouthwatering local and international cuisine.
Bar-Restaurante El Centralito
One of the most popular spots in town for live DJ music, eating drinkin and making new friends in a safe and enjoyable atmospher.
Granada's Night-life
Cafe Nuit on Calle La Libertad is one of Granada's liveliest nightspots and a great opportunity to shake off any reservations and swing your hips to live salsa and merengue.
El Club on Calle La Libertad and Avenida Barricada Granada is young, trendy, and cool. A well-appointed disco bar up front leads to a designer style courtyard of pebbled walkways, backlit palm trees, and purposely worn furniture.
Zoom Bar on La Calzada, 3 blocks from Parque Colon claims to be Granada's only real pub and is a good place to go for huge burgers and sports.
For more down-at-the-heel discos, you need to go to the Complejo Turistico Cocibolca, near the waterfront. Here there is a strip of bars and nightclubs, the best of which are Pantera and Cesars. Be warned however, this part of town at night is for the young, adventurous, and even foolish. If you do fancy seeing this part of town, make sure you get a taxi back as the walk into the city is through a notoriously crime-ridden spot.
Student at One on One Tutoring Spanish School receive five free afternoon activities per week!
-A great way to set off a week of intensive Spanish classes:
| Monday | Tuesday | Wednesday | Thursday | Friday |
| --- | --- | --- | --- | --- |
| City Tour | Dancing Class | Out of Town Field-trip | Swiming Pool Visit | Supper w/ Students and Teachers |