Experience
The oldest and most experienced Spanish school in Granada, Nicaragua, was established on April 1996 and has been has been providing high-quality language training to travelers and professionals for over 14 years and is open, to serve you best, from 8 a.m. to 8 p.m. every day of the week including weekends and holidays.
Read more…
Acurracy
In order to develop, as quickly as possible, our students' conversational skills, the school's material has been carefully adapted to excel our students' speaking, listening and understanding abilities.
Read more…

Low-priced, mouth-watering meals
Students and visitors can now enjoy in Granada a freshly cooked vegetarian meal at our new nicaraguan-vegetarian eatery "LA MERIENDA" where we offer students and travelers yummy, garden fresh meals at a very low cost.
Read more…
Registration
Registration fee is not required at our Nicaraguan Spanish school, but reservation before arrival is needed to ensure our students' placement for morning courses.
Read more…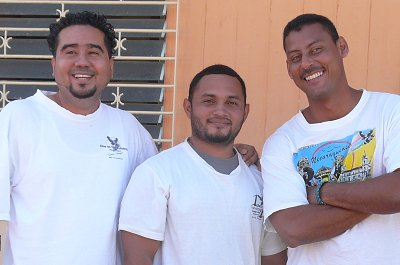 One on One Tutoring
Calle La Calzada del Colegio Carlos A. Bravo 45 varas al lago.
Email: [email protected]
Phone:
(505) 8442-6288
School location in Granada
Spanish school in Granada, Nicaragua.
One on One Tutoring, for over fifteen years has been located in the heart of Granada, and at a five minutes' walk from Lake Nicaragua: One on One Tutoring, its Director, and each of the instructors are looking forward to meeting you.
Address: Calle La Calzada del Carlos A. Bravo 40 varas al lago (toward the lake. House #450 across hospedaje La Calzada and before church Guadalupe).
Phone: (505) 8442-66288
One on One Tutoring
-Totally Nicaraguan and ready to serve you!!!
Click here to contact us
Pricing and Enrollment
Students at One on One Tutoring do not pay registration fee: In order to get our services, our students do not have to make any type of payment in advance. All they need is to make reservation before arrival to ensure his or her placement.
Walk-in students are welcome depending on student enrollment. We also remind you that One on One Tutoring is open form 8 a.m to 8 p.m. seven days of the week, which means that you can start your Spanish course at any given time.
All material is also included in tutoring prices!
Tutoring only: 20 hours per week, 4 hour per day, 5 days of the week. Cost: $110 USD ($5.50 per hour)
10 hours per week, 2 hour per day, 5 days of the week Cost: $60 USD ($6 USD per hour)
Home-stay with a Nica family: Private room, 3 home-cooked meals per day, and laundry service for 7 whole days. Cost: $80 USD.
IMPORTANT: For those wishing to stay less than 7 days with a host family, payment must be $14 USD per day
Airport Pick-up: $40 USD before 9 p.m. or, $45 USD after 9 p.m. for up to three students.
Click here to contact us
Students at One on One Tutoring Spanish School receive five free afternoon activities per week!
-A great way to set off a week of intensive Spanish classes:
| Monday | Tuesday | Wednesday | Thursday | Friday |
| --- | --- | --- | --- | --- |
| City Tour | Cooking Class | Out of Town Field-trip | Swiming Pool Visit | Supper w/ Students and Teachers |