Experience
The oldest and most experienced Spanish school in Granada, Nicaragua, was established on April 1996 and has been has been providing high-quality language training to travelers and professionals for over 14 years and is open, to serve you best, from 8 a.m. to 8 p.m. every day of the week including weekends and holidays.
Read more…
Acurracy
In order to develop, as quickly as possible, our students' conversational skills, the school's material has been carefully adapted to excel our students' speaking, listening and understanding abilities.
Read more…

Low-priced, mouth-watering meals
Students and visitors can now enjoy in Granada a freshly cooked vegetarian meal at our new nicaraguan-vegetarian eatery "LA MERIENDA" where we offer students and travelers yummy, garden fresh meals at a very low cost.
Read more…
Registration
Registration fee is not required at our Nicaraguan Spanish school, but reservation before arrival is needed to ensure our students' placement for morning courses.
Read more…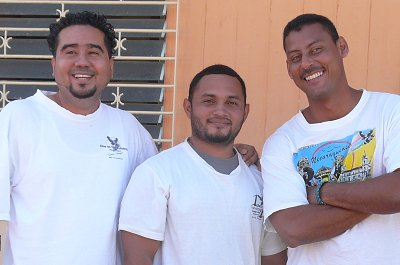 One on One Tutoring
Calle La Calzada del Colegio Carlos A. Bravo 45 varas al lago.
Email: [email protected]
Phone:
(505) 8442-6288
One free of charge activity per day
Afternoon activities
In order to make our students' stay in Granada a much more pleasant occurrence and because we are sure they wish to get a better feel of our culture, colonial structures and nature; One on One Tutoring has added the following afternoon activities to our Spanish teaching program:
On Monday, City tour: leaving from the school at 2 p.m. in the company of Maycol, a young, friendly, bilingual-Nicaraguan tour-guide, students at One on One Tutoring do walk through the streets of Granada where they are introduces to our history and folklore by visiting sites of interest such as churches, museums and others.
On Tuesdays, cooking lesson: at four p.m., students get instructional cooking lessons so they can enjoy and learn how to cook in minutes a yummy vegetarian dish that would be the high-light of any gathering or, occasion.
On Wednesdays, Dancing class at 5 p.m., students meet at the school to learn how to dance salsa, bachata, cumbia and merengue. Or, to prctice the steps they already know.
On Thursday, visit to local swimming pool: Guided by one of the school members, students walk through town to one of the cleanest swimming pools in town where they are be able to enjoy themselves, relax and exercise while swimming.
On Friday night, dinner time to end up a week of intensive hard work: Students and teacher get together on Friday nights to enjoy a couple of hours of music, excellent food and good conversation.
Click here to contact us
A lot of culture and beauty in one single place!
Granada is a warm city year round with a climate very similar to Managua. Granada has experienced a real estate boom similar to other tourist destinations throughout Nicaragua
Some consider this "colonial jewel" to be the future of Nicaraguan tourism, the vanguard of what could be; true, if one is holding up Antigua, Guatemala as the archetype. Most agree that the city's charm will never be taken over; many of the distinctive buildings are private homes of well-off, proud Nicaraguans who wouldn't think of giving up their piece of Granada. And there is a reason for Granada's recent boom.
And if I were you, I would also visit Masaya, the white towns, Leon and if I had enough time, I would also stop by Estli and Matagalpa.
Click here to contact us
One on One Tutoring
-Totally Nicaraguan and ready to serve you!!!