Experience
The oldest and most experienced Spanish school in Granada, Nicaragua, was established on April 1996 and has been has been providing high-quality language training to travelers and professionals for over 14 years and is open, to serve you best, from 8 a.m. to 8 p.m. every day of the week including weekends and holidays.
Read more…
Acurracy
In order to develop, as quickly as possible, our students' conversational skills, the school's material has been carefully adapted to excel our students' speaking, listening and understanding abilities.
Read more…

Low-priced, mouth-watering meals
Students and visitors can now enjoy in Granada a freshly cooked vegetarian meal at our new nicaraguan-vegetarian eatery "LA MERIENDA" where we offer students and travelers yummy, garden fresh meals at a very low cost.
Read more…
Registration
Registration fee is not required at our Nicaraguan Spanish school, but reservation before arrival is needed to ensure our students' placement for morning courses.
Read more…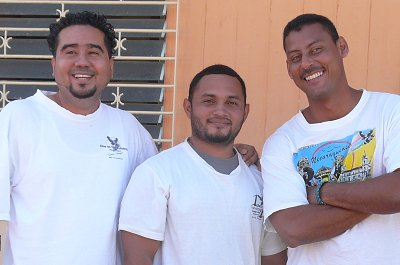 One on One Tutoring
Calle La Calzada del Colegio Carlos A. Bravo 45 varas al lago.
Email: [email protected]
Phone:
(505) 8442-6288
About Granada in Nicaragua
Bright colors and violent history
The city is famous for being captured by many pirates. The most famous of who was William Walker who set up residence in Granada and attempted to become the ruler of all of Central America. Walker set Granada ablaze before making his escape, destroying most of the ancient city and leaving only the famous words "Granada Was Here"
Granada is at once both the oldest city on the continent and the most developed tourist destination in Nicaragua. The city is famous for its classic colonial architecture and postcard cathedrals.
Today Granada has an approximate population of 116,000 making it Nicaragua's fourth largest city.
Granada is a warm city year round with a climate very similar to Managua. Granada has experienced a real estate boom similar to other tourist destinations throughout Nicaragua
Some consider this "colonial jewel" to be the future of Nicaraguan tourism, the vanguard of what could be; true, if one is holding up Antigua, Guatemala as the archetype. Most agree that the city's charm will never be taken over; many of the distinctive buildings are private homes of well-off, proud Nicaraguans who wouldn't think of giving up their piece of Granada. And there is a reason for Granada's recent boom.
It is a fascinating city – full of bright colors, violent history, lake breezes, and the sounds of horse-drawn carriages.
Tourist Attractions in Granada
San Francisco Museum
The San Francisco Monastery is one of Granada's principal antiquities. It was founded in 1529 by Toribio Benevante, a Franciscan clergyman, and named the Immaculate Conception.
The museum has:
– A collection of photos of Granada taken at the end of the 1800s and the beginning of the 1900s depicting life before the advent of concrete and asphalt.
– Dioramas illustrating the daily life of the natives who lived in this area prior to the arrival of Columbus and tools and crockery uncovered from diggings around the city.
– A collection of zoomorphic statues found on the island of Zapatera where they were carved by the pre-Columbus natives between 800 and 1200 A.D.
Volcan Mombacho
This national park is located 10 kilometers outside of the city of Granada. The volcano has a height of 1400 meters and contains 700 hectares undisturbed cloud forest rich with Nicaraguan flora and fauna. There are a few trails, a small museum and restaurant at the top.
Here is the first zipline tour of Nicaragua. It's a beautiful experience between trees with an awesome view.
Laguna de Apoyo
This 48 square kilometer body of water is located a few kilometers outside of the city of Granada. It is clean, and a great place to spend a day swimming and soaking in the rays on one of the hotels or restaurants right on the shore.
It is a great place for scuba diving.
Las Isletas Tour
Las Isletas were formed when Mombacho blew it's top around 20,000 years ago. The 365 island archipelago is found in Lake Nicaragua. The islands are inhabited by a few hundred campesinos and some wealthy Nicaraguans who have built luxurious vacation homes. The islands can easily be accessed by rented boat on the shores of the lake.
One on One Tutoring
-Totally Nicaraguan and ready to serve you!
Click here to contact us